11 "Butt-crack leggings" That'll Make Your Booty Look Amazing
Lifting and shaping your booty takes a lot of time and effort. Whether you're a fan of squats, lunges, spin class, or classic cardio, there are many ways you can create an hourglass shape. However, wearing the right fit of clothing is an excellent alternative to showcase your stunning curves.
These pants feature a ruched seam down the center, which gives the illusion of a tight and round behind. The popularity of this activewear hasn't slowed down in recent years, and it's easy to see why – they're flattering, comfortable, and stylish. Here's why scrunch bum leggings are still going viral and how to find the best pair for you.
1.Shiny Black Scrunch Butt leggings
Faux really is the way to go when it comes to sustainable fashion that looks and feels as luxe and expensive as the real thing. While many think of fur at first, faux leather is one of the most trendy topics we've seen for 2022, and of course the most fashionable application of the hot fabric? Leggings.
Not all leggings are made for working out! This pair of faux-leather leggings would look great under an oversized sweater on your night out. You'll look cute and stay comfortable.
2.
Solid Color Scrunch Butt leggings
Basic solid color with special scruch butt design, even better fit. These candy color scrunch leggings are super comfy and breathable, too. Plus, they come in more than 10 seriously beautiful pastel colors.
3.
Animal Print Scrunch Butt leggings
Yes, leopard print is still trending, so if you haven't embraced the look yet, there's still time to shine in your leopard best. But if full-on panther isn't your thing, ZASUWA offer you a cute-yet-subtle way to wear the print.

4.Scrunch Butt leggings
 with Pockets
Heart-break with fake pockets on bottoms are stealing the spotlight.
ZASUWA cotton stretch shaping legging with fake pockets. They feature 360° of shaping from the waist down to the ankle, for a comfortably slim silhouette. The back of the waistband curves up to allow for the all-important booty lift.
5.Ombre Scrunch Butt leggings
Ombre (pronounced aum-bray) is aombre teal shade pattern consisting of tones of a particular color or colors that blend a shade lighter or darker into each other. It French it literally means shaded. Usually the gradient goes from light to dark or vice versa. In the fashion and textile world, ombre is created by gradually adding more dye into the fabric dying process. Nowadays you'll also find ombre hair (baylage), cakes, prints, bedding and even leggings! It's a timeless trend that appreciates all colors of the spectrum AND that's here to stay.

6.
Checkerboard Scrunch Butt leggings
The fashion trend for cheerful checkerboard is coming in strong for spring. And get ready, it's only going to get bolder and brighter as the weather warms up. The checkerboard fashion trend works brilliantly as a new season refresher if you're working with a capsule wardrobe. 
7.Tie-Dye
 Scrunch Butt leggings
The combo of tie-dye leggings with white sneakers are just so cute, and a coordinating T-shirt pulls it all together. Combine it with a matching netted shopping bag and you've nailed the effortless weekday 'fit. Activewear totally doubles as loungewear thanks to the soft, figure-hugging material that feels like a second skin.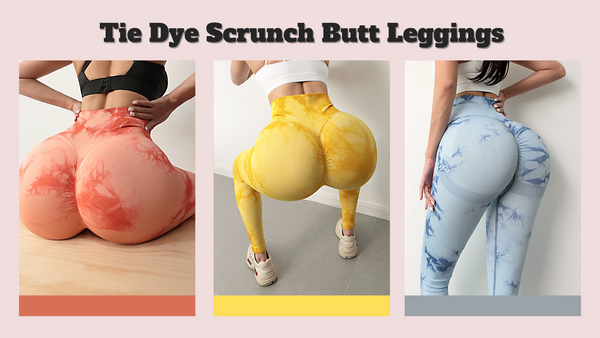 8.
Denim Scrunch Butt leggings
Looks like a pair of jeans but is actually very soft leggings for taking time out of your work day to start training.
9.
Cowboy Style Scrunch Butt leggings
ZASUWA Cowboy style are on the style-printed jean look leggings are sexy, fashionable and comfortable. Made out of soft stretch fabric, our leggings are great for creating the skinny jean.

10.
3D Scrunch Butt leggings
These 3D scrunch butt leggings are definitely a fan favorite. They're made with a funky honeycomb-textured fabric leg and come in dozens of different colors and cool patterns. 
11.
Shinning Scrunch Butt leggings
If you're feelin' it, these sparkle leggings will give you an shiny look that at the same time accentuates your butt.